Product details of BABA'S RENDANG MIX 125g
BABA'S Rendang Mix 125g
Halal Certification by JAKIM
Product of Malaysia
Ingredients – Coriander, Chilli, Fennel, Turmeric, White Pepper, Shallot, Galangal, Garlic, Cinnamon, Kaffir Lime Leaf.
BABA'S RENDANG MIX is the perfect choice for cooking either MEAT or MEAT SUBSTITUTE. RENDANG dishes, a traditional Malay dish enjoyed during special occasions, that has thick, and rich in texture and flavour.
Made from a combination of only PLANT ORIGIN ingredients of the finest quality unadulterated PURE SPICES and select herbs, blended according to an Authentic Family Recipe, FREE FROM MSG and contains NO ADDITIVES or PRESERVATIVES!
Processed and packed to stringent HYGIENIC production standards; that meet both HALAL and International FOOD SAFETY standards, BABA'S has long established itself as MALAYSIA'S PREFERRED CHOICE…. and the TRUE TASTE OF MALAYSIAN CURRY.
Best Before Date – 19/07/2022
BABA RENDANG MIX
BABA'S RENDANG MIX is the perfect choice for cooking either MEAT or MEAT SUBSTITUTE RENDANG dishes, a traditional Malay dish enjoyed during special occasions, that has a thick, and rich in texture and flavour.
Made from a combination of only PLANT ORIGIN ingredients of the finest quality unadulterated PURE SPICES and select herbs, blended according to an Authentic Family Recipe, FREE FROM MSG and contains NO ADDITIVES or PRESERVATIVES!
Processed and packed to stringent HYGIENIC production standard; that meet both HALAL and International FOOD SAFETY standards, BABA'S has long established itself as MALAYSIA'S PREFERRED CHOICE…. and the TRUE TASTE OF MALAYSIAN CURRY.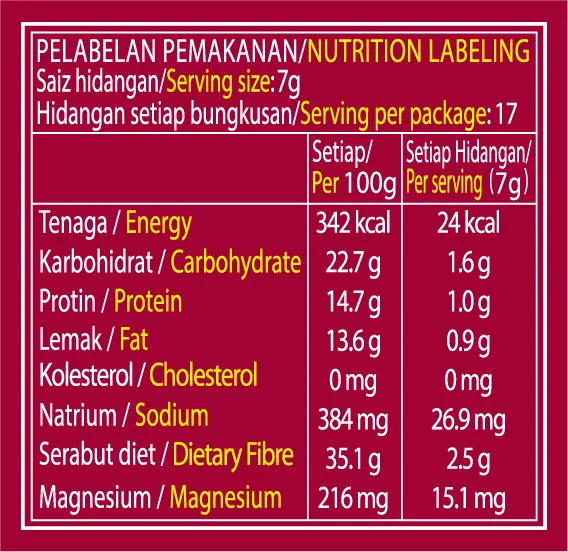 NUTRITION LABELING
NUTRITION LABELING
RECIPE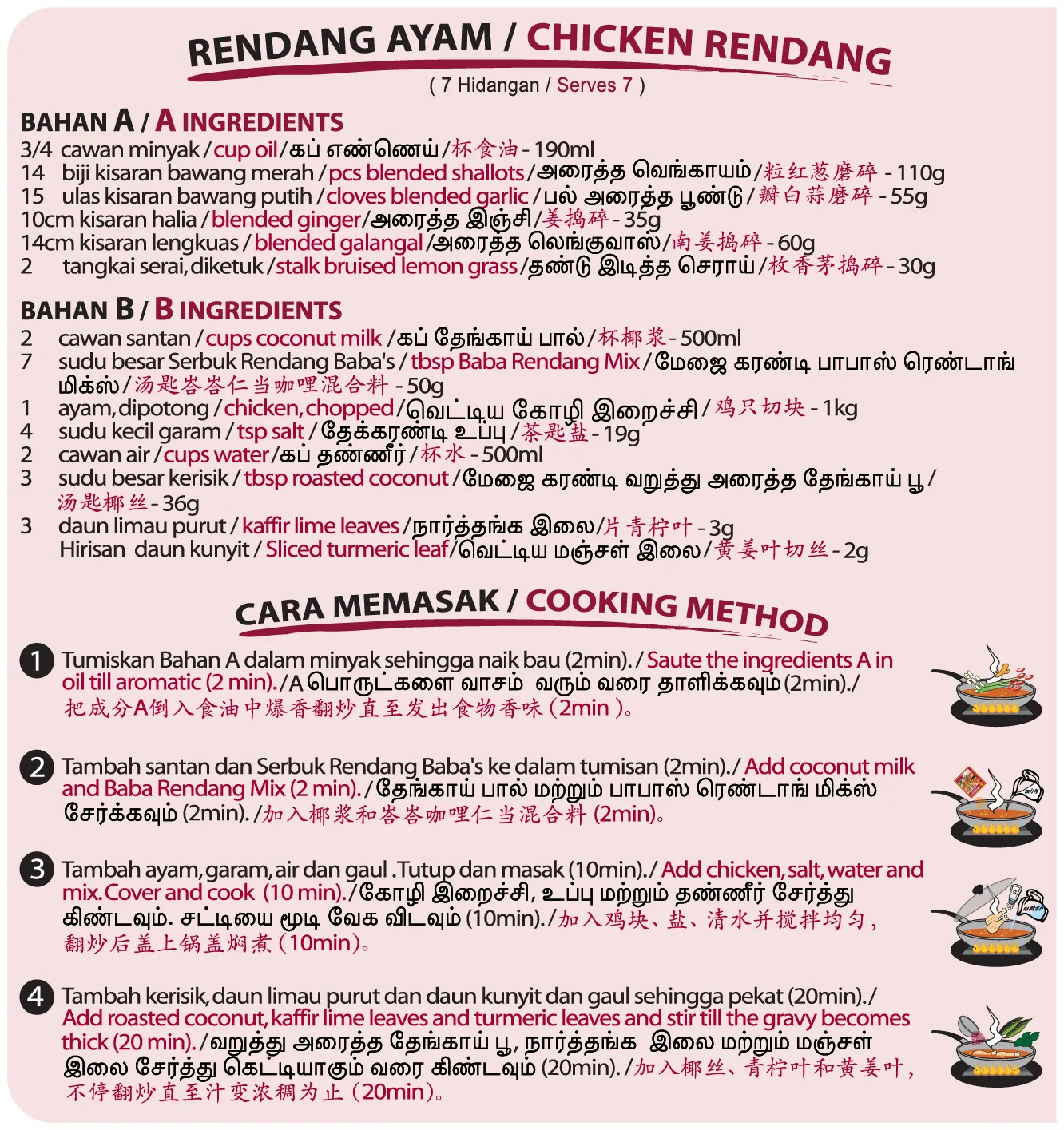 Specifications of BABA'S RENDANG MIX 125g